Heather Alexander:Celtic Bard
"It was a time of elevator music, noise, and pollution.
A land in turmoil cried out for a hero.

She is Heather: Celtic Fiddler;
A Master Bard forged in the heat of battle song.

The power, the passion, the magic,
Her music will change the world."

Shamelessly based on you know what

A Little About Heather:
Heather Alexander is a professional singer/songwriter who operates
out of California. She has cut 4 albums and has numerous original songs
to her name. She is skilled with the fiddle, the guitar, the bodhran,
and her voice.
I enjoy Heather's music because it is a unique blend of fantasy,
humor, wit, and exceptional talent.
Her performances are delivered with a power and passion that I have
rarely seen elsewhere.
Her music is magic, and she is a true Bard.
---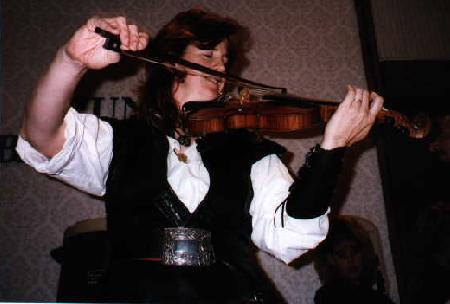 Heather performing at Syndicon East '97
---
Much More About Heather:
---